7 Day Ultimate Fishing Safari
Experience fishing heaven
Guests are collected at approximatley 4:30PM from their accommadation venue. Whilst enhoying your wlcome drink and appetisers, you will have the opportunity to meet the other guests. The crew will then show you to your room. With the sun setting over Cable Beach sit back and relax while MV Diversity steams out of Broome.
Wake up to the delightful Yampi Sound as you enjoy breakfast prepared by our chefs.  Guests will then hit the water on one of our purpose built tenders to fish the rock bars, headlands and creeks of Yampi Sound.  Back on board enjoy a lunch while MV Diversity II heads to Crocodile Creek for a swim before heading up shark alley for an afternoon fish.
After an overnight steam into the breathtaking Doubtful Bay, try your luck on the incoming tide for Mangrove Jack, Finger Mark, Trevally and elusive Barramundi.  Guests will then have the opportunity to swim in the fresh water swimming holes and waterfalls of Ruby Falls.  The crew will then prepare your afternoon fishing expeditions as you enjoy your sumptuous midday meal.  Fish into the evening before you retire with a drink on the front deck.
After breakfast, fish the profilic Sale River mouth, rock bars and run offs. The Sale River is renowned for producing some of the best fishing in the Kimberley. After lunch we target large Trevally in the fast moving currents of the Glenelg River entrance before steaming into the Three Ways River System. Enjoy your dinner under a star-studded sky as we steam ahead into the night.
Day Five – Three Ways River
Fish, Fish, Fish!  The Three Ways river system seems to go on forever and you will encounter a wide variety of species.  You may even be lucky enough to have an encounter with the local snub nose dolphin pod!.
Day Six – Montgomery Reef
Enjoy the world renowned Montgomery Reef which stands 11 feet out of the wter at low tide. In the surrounding islands there will be opportunities to claim a Barramundi and do some blue water fishing for GTs and Queen Fish.
Day Seven – Cockatoo Island
Finish the trip with a swim at Crocodile creek and board the plane at Cockatoo Island for the scenic flight back to Broome.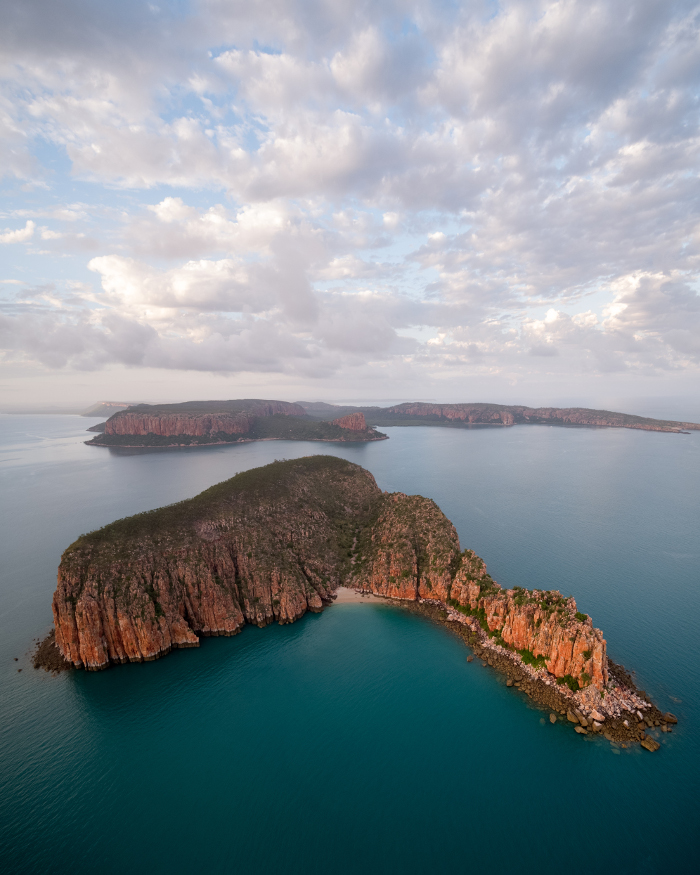 GET IN TOUCH
Contact Us now for a Personalise Quote and Information Booklet