9 Day West Coast Birding & Mammal Trip
 Perth to Exmouth Adventure
Day 1 –  Perth Canyon
Boarding in the early hours of the morning, the trip departs from port of Fremantle at dawn. We'll cruise approximately 30 nautical miles to the northern edge of the Perth Canyon. Waypoint 1 @ 31° 55' S 115° 06' E depth 650 m arriving mid-morning. We then follow the continental shelf NNW for the remainder of the day ranging in depth from 200m to 600m reaching Waypoint 2 @ 30° 47' S 114° 16' E in the evening. The Perth Canyon has attracted plenty of attention in recent years with birders and mammal enthusiasts with plenty of sightings of Pygmy Blue Whale, Dwarf Minke Whale and Gray's Beaked Whale from December to April. Good birds recorded on trips to the canyon include Indian Yellow-nosed & Shy Albatross, Brown & South Polar Skua, Cape, Soft-plumaged & Great-winged Petrel. Arctic Tern have also been recorded in recent years.
Day 2 – Houtman Abrolhos
Having covered approximately 100 Nautical miles overnight to Waypoint 3 @ 29° 23' S 113° 32' E we should be close to the Pelsaert canyon at dawn at a depth of 642m. Following the shelf break NNW before turning in towards Waypoint 4 @ 28° 57' S 113° 56' E and our anchorage south west of Pelsaert Island (southern Abrolhos Group) by noon. This transect could turn up anything however common species include Australian Gannet, Hutton's, Little, Wedge-tailed & Flesh-footed Shearwater. White-faced Storm-Petrel should also occur and plenty of Tern species.
The Houtman Abrolhos are an archipelago of over a hundred Islands and rock stacks lying between 80 and 60 km off the mid-west coast of Western Australia. Over the next 3 days we'll make the most of the opportunity to take in as much of the islands as possible. The ornithological richness of the Abrolhos is without question one of the premier seabird breeding sites in the state of Western Australia with 14 breeding seabird species. Lesser Noddy are obviously a significant drawcard; the Abrolhos being by far the largest of just three known breeding sites in Australia. Little Shearwater and White-faced Storm Petrel also breed on some of the Islands – although it may be a little early in the season to witness breeding activity, sightings at sea are a good possibility. A unique sub-species of Painted Button-quail Turnix varia scintillans is also endemic to the Abrolhos. We will look especially hard for this subspecies as its conservation status has recently been recommended for up-listing to Critically Endangered.
Once at the Abrolhos we'll birdwatch around Pelsaert Island targeting Lesser Noddy. Whilst this species breeds from August to December they do remain in the area year-round and records show they are present in good numbers in March & April. Roseate, Sooty, Bridled, Fairy, Caspian and Greater Crested Tern also breed on Pelsaert as do huge colonies of Common Noddy. There are historical records for Red-tailed Tropicbird breeding on Pelsaert so this will be another species to be on the lookout for.
Day 3 – Abrolhos | Pelsart Island
In the morning we will again land on Pelsaert to explore the Island. Pelsaert is long and narrow running NNE/SW. There will be opportunities to use dinghies to access different parts of the island. In the afternoon or early evening we'll depart from the Pelsaert group and will cruise north crossing the Zeewyk Channel to reach the Easter Group. We'll pick up a mooring close to Wooded Island at Waypoint 5 @ 28° 45' S, 113° 47' E and remain there overnight.

The Houtman Abrolhos has extraordinary historical significance with the notoriously tragic and gruesome story of the shipwrecked Batavia, one of several Dutch East Indiaman that came to grief on the Islands reefs. A recommendation to participants would be to read some of these stories to gain an understanding of the significance these Islands have in Australia's maritime history. The vessel will have a number of books and reference guides on board that people can read. 

 
Day 4 – Wooded and Morley Island
In the morning we'll visit Wooded and Morley Island for more birding and exploration. Extensive stands of the Mangrove Avicennia marina occur on Wooded Island and in season these support breeding Lesser Noddy. The mangroves are also good habitat for Spotless Crake. Birding opportunities on these two Islands is fantastic, including a recent record of White Tern. In the afternoon we'll visit Leo Island. We will overnight on a comfortable mooring in the Easter Group before a 3 hour early morning cruise to the Wallabi group arriving at Waypoint 6 @ 28° 28' S, 113° 43' E
Day 5 – Wallabi Island
In the morning we'll explore Wallabi Island and search for the endemic subspecies of the Painted Button Quail and the Tammar Wallaby. There will also be plenty of opportunity for snorkelling and to visit historical sites associated with the Batavia or search seabird breeding colonies for photographic opportunities. After dinner we will cruise north-west continuing through the night to awake at dawn the following morning over deep pelagic waters.

 
Day 6 – Mammal Watching
Having cruised over night to be at Waypoint 7 @ 28° 30' S, 112° 15' E at 0600 hrs we'll wake over a sea depth of about 2200 m. From here we'll cruise north over complex bathymetry. The area has rarely been searched by birders. One of the target species is Bulwer's Petrel: tracking data indicates this species prefers deep oceanic waters at this latitude in the Indian Ocean and that some individuals venture as far east as the NW Cape. Bulwer's Petrel are regarded as extremely uncommon in Australian waters. They breed on Reunion Island in the South Indian Ocean and then disperse eastwards over huge areas of ocean. Records also exist for offshore waters of southern Western Australia so a chance sighting is not impossible. Several recent sightings in WA include birds seen over the Bremer Canyon off Bremer Bay and a bird photographed from a cruise ship off Cape Leeuwin.
Day 7 – Dirk Hartog Island
At 0600 hrs we will be situated about 20 nautical miles SW of Cape Inscription on the NW tip of Dirk Hartog Island Waypoint 9 @ 25° 51' S, 112° 41' E.  This 4 hour transect in the morning through shelf waters should also be productive with a number of common tube-noses and tern species expected.
Day 8 – Mammal Watching
Overnight cruise to arrive at Waypoint 11 @ 23° 48' S, 111° 17' E at 1000 hrs Depth 1200 m. We are specifically aiming for this location given the complex underwater canyons. Such bathymetry is usually a very good indicator of high seabird and cetacean activity and we are hoping this region is no different. This is true 'frontier birding' as the area has previously received very little attention. From waypoint 11 we will cruise due north to traverse some very deep water (up to 5000 m depth) which should also provide a good chance for the elusive Beaked-Whales. 
Day 9 – Arrive in Exmouth
Overnight we'll cruise towards NW Cape and then head south to Exmouth, before disembarking in the morning.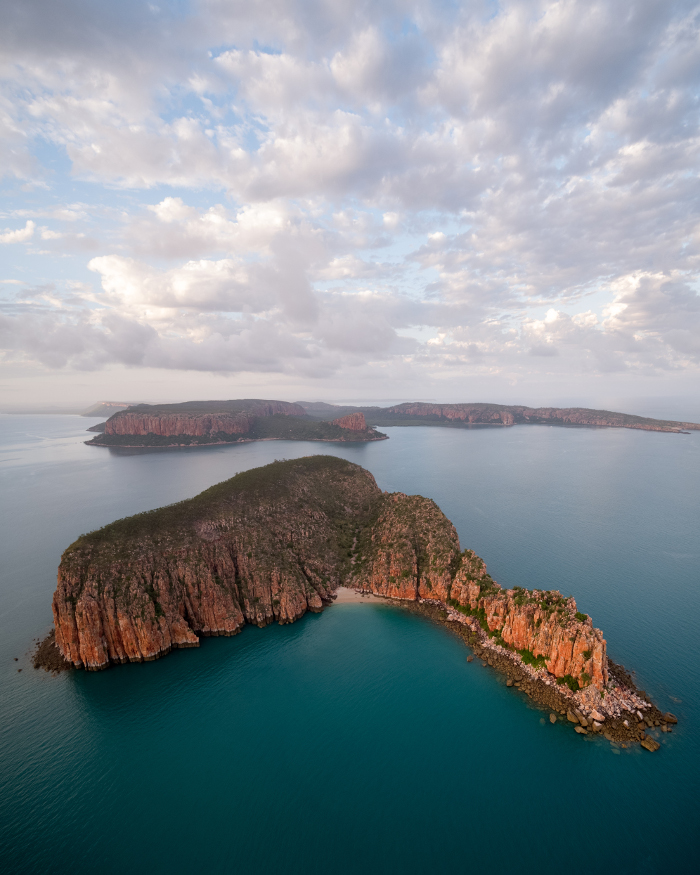 GET IN TOUCH
Contact Us now for a Personalise Quote and Information Booklet